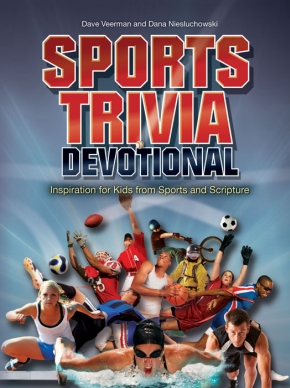 Client:
Zondervan
Product:
Devotional book (one year)
Services:
Project Management, Editorial, Design (interior), Typesetting
Situation:
Livingstone brought the idea to Zondervan to do a fun, four-color devotional that focuses on sports. This one-year devotional highlights high-profile events that occurred on each day of the year in a variety of sports. Each daily devotional focuses on one of those events along with an appropriate Scripture passage and life lesson to help readers (particularly tweens) discover points and principles from the Bible and sports to apply to competition and to life.
Each day includes an "Also on this day" feature that lists other events that occurred on that day in history. Readers will also find a list of birthdays for that day (along with year and sport), plus other fascinating facts and invaluable information about just about every type of athlete and sport imaginable. Livingstone also prepared fifty-two quizzes to test the reader's knowledge and memory.
Solution:
The Livingstone team
Researched and located several sporting events for each day of the year.
Wrote 365 devotionals by choosing one event for each day. The devotional focuses on a life lesson the reader can learn from that event. (Writers were careful to choose a variety of sports on which to write the devotionals.)
Chose a key verse to go with each devotional.
Located and listed birthdays of sporting figures for each day of the year.
Chose fun facts for each devotional.
Chose verses or passages that would highlight the topic of the excerpt and devotional.
Wrote fifty-two sports-related quizzes.
Created the internal design.
Chose several photographs and other visuals for the design-intensive pages—and built every page individually.
Typeset the book.
Delivered the project on a tight timeline.