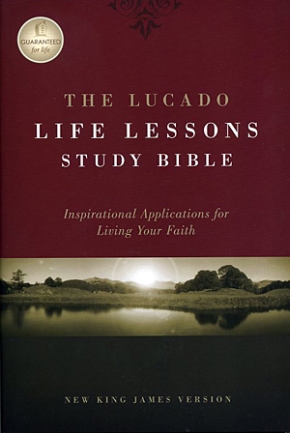 Client:
Thomas Nelson
Product:
Study Bible
Services:
Project Management, Editorial, Design (interior), Typesetting
Situation:
Livingstone worked with Nelson on both previous versions of the Max Lucado Bible, and in this round was challenged to make all of the Life Lessons from Max Lucado books exclusively—including the books published most recently. Livingstone mined all of Max's material to create Life Lessons excerpts to replace the ones that were previously from other authors, as well as using material from new books for the "Christ Through the Bible" and "New Life in Christ" features.
Solution:
The Livingstone team
Researched all of Max Lucado's recent books and chose excerpts to place in Scripture, matching a topic in that section of Scripture.
Revised the Life Lessons introductions and take-away questions as needed.
Created documents, style tagged the elements, and changed all Scripture quotations to match the NKJV text.
Worked with teams at Nelson and at Max Lucado's office to finalize content.
Revised all front and back matter to match the NKJV text.
Created a new and updated design for the elements.
Typeset the Bible.