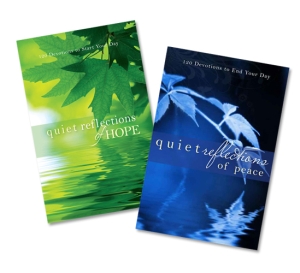 Client:
Baker Publishing Group/Revell
Product:
Devotionals
Services:
Project Management, Editorial, Design (covers and interiors), Composition
Situation:
Baker wanted a brand-new product—devotionals for women with a new feel. We worked with Baker to design "visual devotionals," one for a woman to read in the morning (Quiet Reflections of Hope) and one for her to read in the evening before bed (Quiet Reflections of Peace).
Solution:
The Livingstone team
Developed the books' approach with Baker, determining a plan to provide devotionals that would help a woman get going into her day first thing in the morning, and then help her wind down before bed.
Located 120 verses for each book (verses focused on morning or evening respectively), and received approval for these verses from the editor at Baker.
Assigned the devotional writing to women in our freelance writer network. These writers delivered freshly-written devotionals. They were asked to write "visually" and tell us what they saw as they wrote. They then suggested photos that would go with their devotionals.
Managed the editorial process, including the editing and copyediting, before providing a final MS for Baker's review.
Created cover designs for Baker's advertising and catalogs.
Created interior designs allowing for best use of copy and photographs.
Researched appropriate photos to accompany each devotional—delivering two or three photos and working with Baker's editorial and creative departments for final photo choices.
Provided typeset pages for Baker's review, final proofread, and comments.
Ran quality control checks on all pages at every typesetting stage.
Developed front and back matter, including an introduction to the book and photo credit list in the back.
Prepared final, high-resolution PDFs.