The A to Z Guide to Finding It in the Bible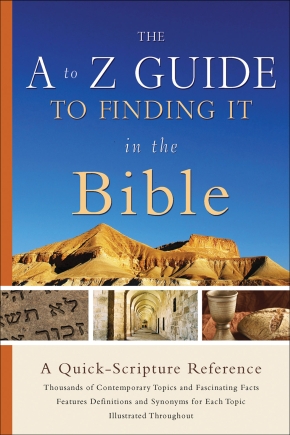 Client:
Baker Publishing Group
Product:
Resource book
Services:
Project Management, Editorial, Design (cover and interior), Typesetting
Situation:
The team at Baker/Revell asked Livingstone to create a quick-Scripture reference to a comprehensive list of topics. This practical, applicable, and easy-to-use reference offers an "at your fingertips" guide to Scripture, including key references, definitions, synonyms, and related topics for each subject. It even covers topics off the beaten path, such as UFOs, pistachios, and insomnia! The A to Z Guide to Finding It in the Bible is an entertaining and enlightening read for people interested in what the Bible has to say about just about everything.
Solution:
The Livingstone team
Compiled a listing of approximately 2,000 entries, featuring contemporary and relevant topics that are addressed in Scripture.
Worked with Baker/Revell to determine to topics for the entries and the layout of the book.
Created the content, including writing brief definitions (where appropriate) for entries, providing synonyms (where appropriate), and compiling key references where the word or topic is addressed in the Bible.
Managed the editorial process, including the editing and copyediting, before providing a final manuscript for client review.
Worked with the editorial team at Baker to finalize content.
Created interior designs for the pages.
Created cover design.
Typeset the product, including our standard quality control check.