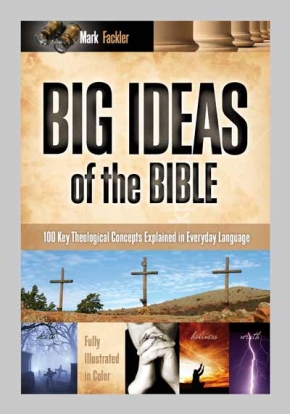 Client:
Barbour Publishing
Product:
Reference book
Services:
Project Management, Editorial, Design (interior), Typesetting
Situation:
To follow in the line of other books Livingstone has done for Barbour—500 Questions & Answers from the Bible and Handbook of World Religions, Barbour requested a book that would focus on and unpack concepts that are important to the Christian faith. Big Ideas of the Bible unpacks important truths for 101 of those terms, from "Adoption" to "Worship" and everything in between—such as Covenant, Faith, Grace, the Incarnation, and the Trinity. Written for the average person, not the scholar, Big Ideas of the Bible provides key verses showing how a particular word or concept appears in Scripture, a brief definition of the term, and a broader explanation of the concept with an emphasis on application. Fully illustrated in color, Big Ideas of the Bible is a perfect way to learn what's really important in Scripture. It's ideal for personal reading, Sunday school use, or small group study.
Solution:
The Livingstone team
Hired Mark Fackler (who also authored 500 Questions & Answers from the Bible) and Brian Dennert as authors.
Worked with Baker/Revell to determine the 101 key terms to be explained in the book.
Worked with the authors and edited the material.
Created the Scripture index.
Designed the interior.
Located photographs to help illustrate the concepts.
Typeset the book.
Provided our full quality control check of content and page layout.