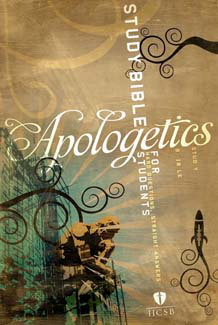 Client:
B&H Publishing Group
Product:
Study Bible
Services:
Project Management, Editorial, Design (interior), Typesetting
Situation:
To follow up on the great success of The Apologetics Study Bible, the team at B&H decided to create a version for students. Working with general editor Sean McDowell, the B&H team and Livingstone met together for a day to brainstorm the Purpose/Philosophy/Plan for the Bible and its features. The result is a Bible for students that includes:
120 articles on key apologetic questions (written to be clear and understandable for students)
Study notes
"Twisted Scripture" notes, focusing on passages most commonly distorted by cults and other religions
"Bones & Dirt" notes that describe how key archaeological finds build confidence in the reliability of Scripture
"Notable Quotes" from past and present apologists
"Challenges and Tactics" notes give specific tactics to help students be prepared to handle some of the most common challenges to Christianity
"Personal Stories" from some of the great defenders of the Christian faith, along with students who detail personal experiences in defending their faith
"Fast Facts" lists offer some of the most important apologetics topics in bullet-point format for easy memorization and recall.
Solution:
The Livingstone team
Met with the B&H team and general editor Sean McDowell to plan the project.
Managed the process and pieces as they came in from writers and editors.
Mapped the project for placement of all features.
Created interior design for the Bible pages—giving each feature a distinctive look.
Typeset the Bible, including our standard quality control check.